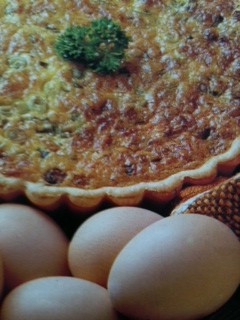 1 Quantity of Rich shortcrust pastry.
Thaw and roll out to fit a buttered 20cm flan ring.
4 Slices lean bacon, chopped
6 Spring onions, chopped
125g Extra Tasty cheese, finely grated
3 Eggs
½ Cup cream
¼ Cup milk
Pinch of mixed dried herbs
Salt & Pepper
Pre heat your Wildcat Wood-fired oven to 200oC
Sprinkle bacon, spring onions and cheese into the pastry shell.
In a small bowl, place eggs, cream, milk and seasoning – beat well.
Pour mixture into pastry shell.
Cook for 20 – 30 minutes or until golden brown.