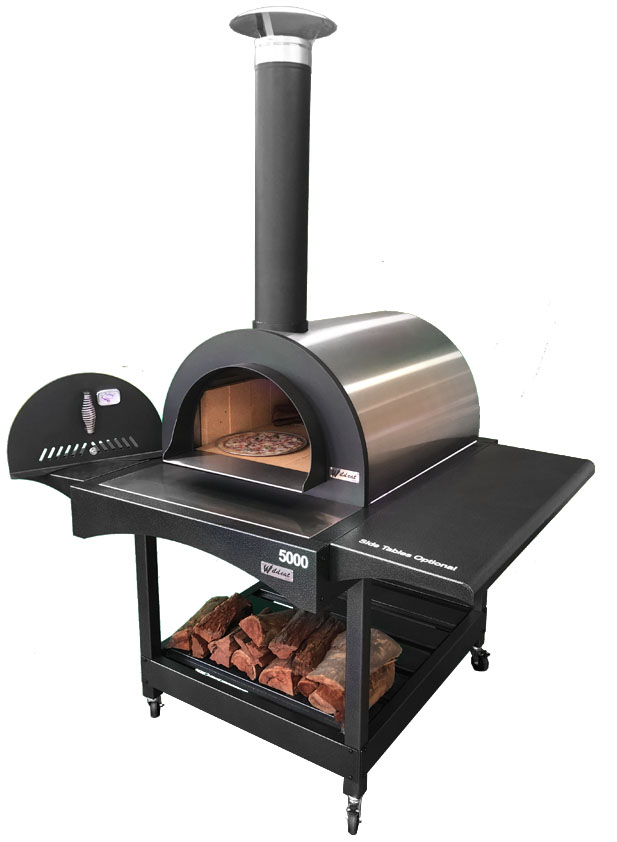 Wildcat 5000 Wood Fired Oven
"The Compact" Traditional Wood Fired Oven
The Wildcat 5000 Series is a brand new wood-fired oven designed and built in Australia. It is a more traditional style where the fire is lit within the oven and gradually pushed to the back as the oven heats.
Utilizing thick heavy refractory firebricks for maximum thermal mass to retain heat, and two layers of ceramic fibre blanket to insulate the oven, this oven really performs!
Features
A removable free standing door with built in air slide control
Cool to touch handle
Double layer of ceramic blanket insulation
Can be installed on an optional  trolley or metal stand
Build it in on a  purpose built brick/block and concrete slab
Firebrick lined on the back, sides and bottom
Stainless steel firebox
Finished in Brushed Stainless Steel with Black trim
The Wildcat 8000 is a top quality, large wood-fired pizza oven that is  Australian made and designed with more quality features than any other pizza oven on the market.  The Wildcat 8000 wood-fired pizza oven  was built to impress in size and versatility.
More than a pizza oven and big enough for the largest appetites. It can be used to cook all meals that your indoor conventional oven can cook and more, as it has a separate firebox and oven that allows you to cook desserts, cakes etc without the wood flavour. Open the side vents and adjust the top baffle for not only pizzas but roasts, casseroles, vegetables and even smoking fish or ham.
The oven features adjustable smoking vents that allow you to control the smoke into your oven.
The front air vent and unique baffle system easily slides open or closed during cooking time, allowing you to adjust the temperature as you cook.
Features
A removable free standing door with built in air slide control
Cool to touch handle
Double layer of ceramic blanket insulation
Can be installed on an optional  trolley or metal stand
Build it in on a  purpose built brick/block and concrete slab
Firebrick lined on the back, sides and bottom
Stainless steel firebox
Finished in Brushed Stainless Steel with Black trim