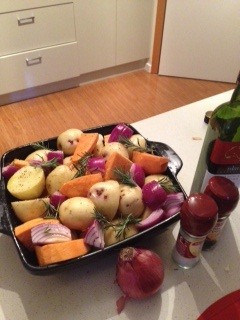 *6 Potatoes
*1 Large Sweet Red Potato
*2 Red onions
*Olive oil
*Rosemary
*Salt & Black Pepper
*Minced garlic
Wash & cut Potatoes in half
Peel Sweet Potato and cut into chunks
Peel onions and cut into wedges.
Place all into ovenproof dish and drizzle with olive oil,
sprinkle with plenty of Rosemary, garlic and season well.
Place into your heated Wildcat Wood Fired Oven (250oC)
Bake for approx.. 1.5 hours, turning every ½ hour.
Than kyou Kate!
These veggies are equally delicious with Aioli or your favourite gravy.