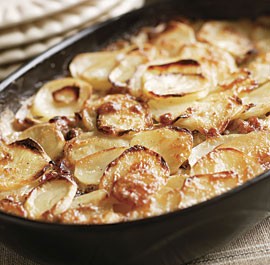 1 Tbsp Olive Oil
1 Large Leek, Thinly sliced
1 Crushed clove of Garlic
600ml Thickened cream
3 Eggs Lightly beaten
1 Cup Grated Tasty cheese
1 Kg Potatoes, peeled and thinly sliced
200gms Bacon, coarsely chopped
¼ Cup Breadcrumbs
½ Cup Shaved Parmesan
Pre-heat your Wildcat Wood-fired Oven to 210oC
Heat the oil in a small saucepan over medium heat. Add the Leek & Garlic and cook for 3 minutes, stirring constantly until the Leek softens.
Whisk together the Cream & eggs in a bowl, season with salt & pepper
In an oven-proof dish approx. 2L in capacity. place 1/3 of the sliced potato evenly over the base. Top with ½ the Leek & Garlic and ½ the Bacon. Pour over 1/3 of the Cream mixture.
Repeat the layering, finishing with the cream on top.
Sprinkle with breadcrumbs and Parmesan cheese.
Bake in oven for ½ hour, turn the dish and bake for a further ½ hour or until the potatoes are tender.