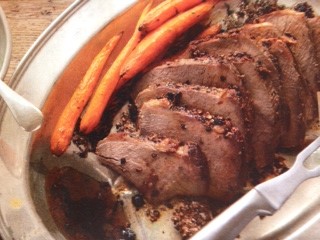 70g (1/4 cup) Dijon mustard
1/4 cup finely chopped fresh thyme
2 tbs olive oil
Salt & freshly ground black pepper
2kg-piece beef scotch fillet
60g Butter
2 tbs plain flour
dash of Worcestershire sauce
pinch of dried herbs
1 tsp Vegemite
1 beef stock cube
700 ml cold water
Mix the Mustard, Thyme, Olive oil & Black pepper into a paste. Spread over the Beef. Place meat in an oven dish and cook for 1 1/2 hours at approx. 220C. Let stand for 15 minutes.
To make the gravy, melt butter in a saucepan, add Worcestershire sauce, herbs, Vegemite and stock cube. Mix. Add flour then add water slowly mixing all the time until thickened and smooth.